Self-service, Open kitchen
Confectionery, own bakery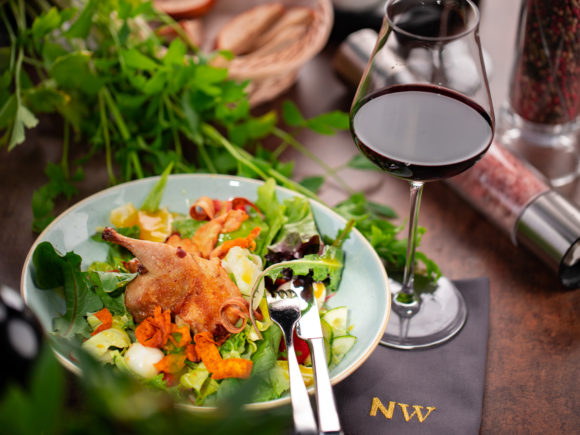 We should emphasise here
that we are a team of professionals who prepare each meal from the best and freshest ingredients, preferably in bio-quality, that we honour tradition, but also have a vision for future trends, and that we continuously are developing ourselves and our trade. But this is hardly worth mentioning, for this is second nature to us.
What we really want
to point out is the amount of commitment and care we put into the preparation of each meal, how we look forward to watching you enjoy them, and that we'll be glad to welcome you back in our restaurant. Everything you eat is hand-made – we make our own pasta, bake our own bread, and use herbs we grow here. The self-service and open-kitchen concept offers a wealth of variants.
Breakfast
Scrambled Eggs                                     79 CZK
3 eggs, chives, rolls or bread
Three Boiled Eggs                               89 CZK
3 eggs, butter, Parmesan,
chives, rolls or bread
Ham and Eggs                                     89 CZK
3 eggs, bacon or ham, chives,
rolls or bread
French Omelette                                 109 CZK
3 eggs, ham, bacon,
mushrooms, red pepper,
onion, Parmesan, rolls or bread
Eggs Benedict                                     169 CZK
ham, 2 eggs (poached),
Hollandaise sauce, pancake
Deli Platter                                            119 CZK
50 g ham, 50 g salami, 50 g sliced cheese,
butter, vegetable mix, rolls or bread
English Breakfast                                   239 CZK
1 sausage (grilled), 2 eggs, beans,
rolls or bread, grilled vegetables,
bacon, butter, marmalade
Nutrend Protein Waffles                        89 CZK
yoghurt, fruits, cinnamon,
maple syrup
Nutrend Protein Porridge
with Fruits                                               69 CZK
fruits
Yoghurt                                                       69 CZK
fruits, mixed nuts, cereals on offer,
maple syrup
Vienna Sausages                                     69 CZK
2 pcs, rolls or bread
Hotel "buffet" breakfast                      250 CZK
according to the current offer 
For all breakfasts you can also order poured juice, water Nartes, tea and coffee
for 69 CZK.
---
Breakfast is served from 07.00 to 10.00.
The last order is accepted at 9.45.
Menu à la carte
---
Starters
---
80 g Roasted Duck Breast                 229 CZK
pomelo, bean salad, bean purée,
egg yolk, feuille de brick
80 g Tuna Tartare with Sesame       239 CZK
sriracha, honey, toasted bread
80 g Venison Backstrap Carpaccio  229 CZK
cranberries, mushroom tartare,
balsamic vinegar
80 g Ground Meat Arancini              209 CZK
mixed greens, beetroot, chilli, shimeji
80 g Marinated Beetroot                   199 CZK
goat cheese, nuts with honey,
arugula, vinegar
---
Vegetarian
---
300 g Poached Eggs
with Chanterelle Sauce                     259 CZK
herbs, wine, cream, toasted
sourdough bread
200 g Portobello Burger
with Raclette                                        259 CZK
shallot, wine, herbs, fries, dip
---
Pasta & risotto
---
Pumpkin Risotto                                  269 CZK
roasted pumpkin seeds,
pumpkin oil, microgreens
Beetroot Risotto                                  269 CZK
goat cheese, broccoli, beetroot leaves
Gnocchi with Wild Boar Ragu          289 CZK
wine, root vegetables
Strozzapreti with Salsiccia                 279 CZK
broccoli, artichoke, Pecorino,
dried tomatoes, pork greaves
Spaghetti with Calamari Tentacles  299 CZK
garlic, chilli, anchovy, wine,
mussels, butter, lime
---
Main dishes
---
200 g Pulled Beef Brisket
with Potato Crispers                            359 CZK
fire-roasted cheddar, lime
mayonnaise with chilli
200 g Chicken Supreme
with smoked pepper sauce               339 CZK
egg barley, baked bell peppers,
lime, crisps, cream
200 g Beef Burger with Cheddar     329 CZK
jalapeños, tomatoes, fries, pickled
cucumber, mayonnaise
350 g Marinated & Baked
BBQ Pork Ribs                                      299 CZK
red cabbage coleslaw, toasted bread
200 g Pistachio-Crusted
Venison Backstrap                              469 CZK
pumpkin purée, demi-glace
with juniper, butter gnocchi
400 g Wellington Tenderloin
with Madeira sauce                           1.259 CZK
portobello, Parma ham, puff
pastry, baked grenaille
200 g Sous Vide Duck Breast
with sour cherry sauce                      389 CZK
roasted potato gnocchi
200 g Sous Vide Pork Tenderloin   409 CZK
Chanterelle Ragu, baked potato
with herbs, bacon
200 g Grilled Tuna with
Teriyaki sauce                                     389 CZK
potato purée, vegetables
julienne, sesame oil
200 g Grilled Calamari Tentacles
with garlic confit                               429 CZK
lentil salad, cherry tomatoes,
celery, balsamic vinegar
---
Sauces
---
Mushroom sauce                                    69 CZK
Demi-glace                                              69 CZK
Green peppercorn sauce                      69 CZK
Red wine sauce with sour cherries    69 CZK
---
       Salads
---
Vegetable salad with Roastbeef       329 CZK
mixed greens, grenaille, roasted
cherry tomatoes, Dijon dressing
Grilled Goat Cheese Salad                  299 CZK
caramelized walnuts, beetroot,
vinegar, crouton
350 g Fresh vegetable bowl               109 CZK
---
Steaks
---
200 g Sous Vide Pork Tenderloin     289 CZK
200 g Beef Tenderloin                         479 CZK
200 g Venison Backstrap                    379 CZK
200 g Sous Vide Chicken Supreme 249 CZK
---
Sides
---
Baked grenaille                                     69 CZK
with herbs
Grilled vegetables                                69 CZK
Fries                                                         69 CZK
Green beans                                          69 CZK
with bacon
Grilled mushrooms                               69 CZK
with herbs
---
Desserts
---
Chocolate Fondant                              169 CZK
with caramel liqueur
Daily Desserts
---
Soups
---
Beef consommé, pressed
beef meat                                                89 CZK
fregola, carrot, parsley
Soup of the day