Self-service, Open kitchen
Confectionery, own bakery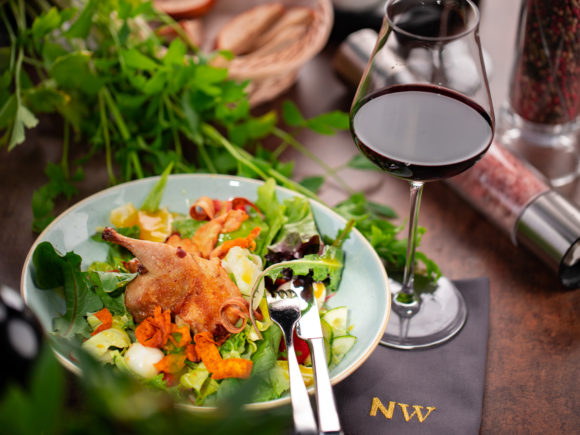 We should emphasise here
that we are a team of professionals who prepare each meal from the best and freshest ingredients, preferably in bio-quality, that we honour tradition, but also have a vision for future trends, and that we continuously are developing ourselves and our trade. But this is hardly worth mentioning, for this is second nature to us.
What we really want
to point out is the amount of commitment and care we put into the preparation of each meal, how we look forward to watching you enjoy them, and that we'll be glad to welcome you back in our restaurant. Everything you eat is hand-made – we make our own pasta, bake our own bread, and use herbs we grow here. The self-service and open-kitchen concept offers a wealth of variants.
Breakfast
Eggs Benedict with
marinated salmon                               179 CZK
hollandaise sauce, muffin, dill, eggs
Club sandwich with chicken             159 CZK
mayonnaise, poached egg,
tomatoes, leaf mix
Sourdough bread with avocado
and poached egg                                 129 CZK
pomegranate, microgreens
Sourdough bread with
beetroot spread                                  129 CZK
grilled halloumi cheese,
microgreens, sour cream
Pancakes with maple syrup             129 CZK
pancakes 3 pcs, sour cream,
fresh fruit
Mango sticky rice                                 149 CZK
coconut, mango puree, nut granola
Scrambled Eggs                                     79 CZK
3 eggs, chives, rolls or bread
Three Boiled Eggs                               89 CZK
3 eggs, butter, Parmesan,
chives, rolls or bread
Ham and Eggs                                     89 CZK
3 eggs, bacon or ham, chives,
rolls or bread
French Omelette                                 109 CZK
3 eggs, ham, bacon,
mushrooms, red pepper,
onion, Parmesan, rolls or bread
Hotel "buffet" breakfast                   299 CZK
according to the current offer 
Breakfast is served from 07.00 to 10.00.
The last order is accepted at 9.45.
Menu à la carte
---
Starters
---
80 g Foie Gras au Torchon                 299 CZK
baked Granny Smith apple,
cassis gel, tramezzini
80 g Pike Perch Ceviche                    259 CZK
segments of orange and lime, Frisée salad
80 g Beef Carpaccio                           259 CZK
garlic emulsion, capers, parmesan, arugula
120 g Buffalo Mozzarella Caprese   229 CZK
balsamic vinegar, black olive dust
80 g Grilled St. Jacob mussels        289 CZK
cauliflower purée, fava beans, Madeira sauce
---
Vegetarian
---
250 g Cauliflower Croquettes         289 CZK
panko breadcrumbs, carrot purée,
coconut curry, raisins, coriander
200 g Veggie Burger with tof         299 CZK
cheddar, tomato salsa, soy sauc,
basil, tomatoes, mayonnaise
---
Pasta & risotto
---
Strozzapreti alla Putanesca
con Scamorza                                      289 CZK
tomatoes, garlic, chilli, anchovy,
olives, capers, parmesan
Spaghetti alla Pescatora                   289 CZK
mussels, calamari, shrimps, wine,
cherry tomatoes, garlic, parsley
Risotto allo Zafferano con timo       299 CZK
sweetbread, green peas,
sprouts, parmesan
Risotto Spinaci con Ricotta               279 CZK
spinach pesto, roasted pine nuts
Lasagne Bolognese                            289 CZK
beef ragu, crushed tomatoes, wine,
vegetables, bechamel, parmesan
---
Main dishes
---
150 g Grilled Salmon,
cucumber chutney                             389 CZK
wakame seaweed, fondant potatoes,
Japanese mayonnaise
200 g Orange Braised Sous
Vide Brisket                                          359 CZK
potato purée, jus, garlic crumble
350 g Hoisin Baked Ribs
with Kimchi vegetables                     349 CZK
lime mayonnaise with chilli,
sesame, coriander
350 g Grilled Calamari Tentacles
with avocado                                        459 CZK
cherry tomatoes, guacamole, mixed greens
200 g Aged Beef Tournedos
Rossini, foie gras                                  589 CZK
Madeira sauce, mushrooms, toasted bread,
arugula
200 g Pork Flank Steak,
Tvarůžky sauce                                     419 CZK
smoked grenaille, Gazdovska bacon, parsley
200 g Chicken Supreme
with polenta                                         389 CZK
baked baby carrots, green peas, jus
200 g Grilled Venison Backstrap
with chickpeas                                    469 CZK
jus, chickpea purée with lime, bok choy
200 g Sous Vide Duck Breast,
cassoulet                                               419 CZK
beans, sausage, parsley, rosemary oil
200 g Slow Roasted
Brisket Burger                                    449 CZK
Cheddar sauce, grilled Little Gem salad,
green peppercorn mayonnaise, Crispers
---
Sauces
---
Mushroom sauce                                    69 CZK
Demi-glace                                              69 CZK
Green peppercorn sauce                      69 CZK
Red wine sauce with sour cherries    69 CZK
---
       Salads
---
Vegetable Salad, Smoked
Marinated Salmon                                329 CZK
mixed greens, cherry tomatoes, herb dressing
Asian Mango and Shrimp Salad        339 CZK
carrot, cucumbers, peanuts, bok choy,
fish sauce, lime
350 g Fresh vegetable bowl               109 CZK
---
Steaks
---
200 g Sous Vide Pork Tenderloin     299 CZK
200 g Aged Beef Tenderloin              529 CZK
200 g Aged Striploin                           469 CZK
200 g Sous Vide Chicken Supreme  269 CZK
---
Sides
---
Baked smoked grenaille                    69 CZK
Grilled vegetables                                69 CZK
Potato Crispers                                     69 CZK
Fries with Cheddar sauce                  89 CZK
Mac and Cheese                                   69 CZK
---
Desserts
---
Chocolate Fondant                              169 CZK
with fresh fruit
Our ice cream or sorbet                       35 CZK
Daily Desserts
---
Soups
---
Beef consommé with oxtail               89 CZK
cognac, baked vegetables, fregola
Soup of the day                                     99 CZK