Ayurvedic therapy is
an ideal ritual to calm the body and mind. This art, thousands of years old, comes back to life in NUTREND World in a perfected form. More than 70 kinds of massages – plus masseuses coming from Sri Lanka, where special massage oils are being blended from purely natural ingredients and most precious oils, with curative effects. Not only do the unique massage techniques relax muscles and blocked energy, but they also harmonise the chakras. Special massage tables augment the sensation of this exquisite massage, further supported by tea prepared from herbs specially chosen for each individual client.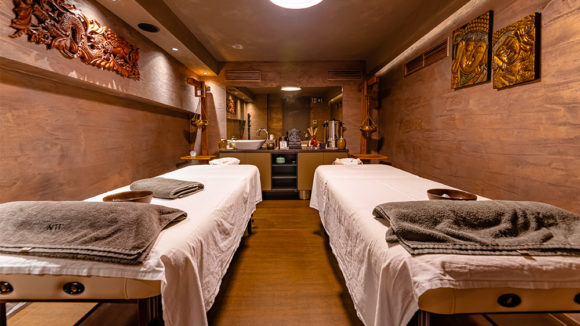 Wellness SPA rooms
Make the most of the private spa rooms, a concept unique to NUTREND World. Complete privacy, perfect relaxation, a wide offer of aromatherapy oils, and a tub filled exclusively for you. Each room includes a sauna and an experiential shower, and is scented by luxurious Rituals aromatherapy scents. Would you like to try a waterbed? No problem. Moreover, you can put on a bathrobe in the room and move to our wellness centre to find yourself in another world.
Buddha Spa Room (up to 6 relaxation places)
Laugh, and the world laughs with you…
Ayurveda Spa Room (up to 4 relaxation places)
Natural beauty thanks to inner harmony…
Sakura Spa Room (up to 4 relaxation places)
Celebrate each day as a new beginning…
Massages and Therapy
The massages can be combined. In case of specific ailments, we can arrange for a combination of tailored massages, or complement with other therapies. We offer more than 70 kinds of massages and therapies.
Abhyanga
Ayurvedic full-body massage 
Ayurvedic full-body oil massage that substantially works on the lymphatic system, while relaxing muscles and joints. The oil used is also beneficial for the skin.
This basic Ayurvedic full-body massage uses oil that gives the skin necessary vitamins, elasticity, softness, and last but not least, a beautiful scent. The massage has a marked effect on the lymphatic system where targeted massage techniques increase blood flow in the body, relax stiffened muscles, tendons and joints, and improve the activity of the circulatory system. Regular massages dispel toxins from the body, thus improving the function of the immune system. Abhyanga is also recommended as a relaxation massage to relieve tension and stress. At the same time, it is also suitable for treating sleep disorders. You can try the intensity of this massage with the aid of our Sri Lankan therapists, and wholly unique effects of this massage can be appreciated when carried out by two therapists simultaneously – the "synchronous" (or, double) massage. Your body will thoroughly relax and harmonise and achieve the maximum effect of this therapy. We recommend repeating the massage at least twice a month, but in case of acute difficulties, for instance with the locomotor system, we recommend several massages a week. In such cases, we can arrange for an individual programme and order of massages with various intensities.
Shirodhara
Regal Ayurvedic full-body massage associated with massages of the "third eye."
Regal Ayurvedic full-body massage associated with massages of the "third eye." Offers deep relaxation, counteracts insomnia, stress, and headaches.
Shirodhara, the regal Ayurvedic therapy, is distinguished as the most relaxing Ayurvedic procedure. It is by all means true – as the warm oil runs down the forehead where the "third eye" is located and then flows to the crown of the head, it seems like being touched by an angel. This therapy also includes massage of the head and neck, and it is recommended to combine the procedure with a full-body massage. Shirodhara is used as relaxation therapy to soothe the mind, but it is also beneficial for treating difficulties with the head, eyes, and ears. It also counteracts insomnia, excessive stress, vision disorders, etc. The oil used is beneficial for the hair and scalp, as the herbal extracts contained in it supply vitamins, brilliance and strength to the hair, and counteract its greying. We recommend leaving the oil on the hair for as long as possible in order to make the most of its effects. Ideally, hair should be washed the following day.
Pindasvedan
Ayurvedic full-body massage using heated herbal sachets.
Ayurvedic full-body massage using heated herbal sachets.
This Ayurvedic full-body massage includes a massage using heated herbal sachets. The massage relaxes and warms the muscles, has soothing effects, while the herbs and oils used are beneficial for the skin. The combination of the Ayurvedic full-body massage and heated herbal sachets substantially increases blood flow in the body, while heating and relaxing painful areas. The sachets are filled with a mixture of special herbs, rice and other ingredients. We often modify the mixtures, adjusting them to the client's specific ailments. In case of individual care, we recommend repeating this therapy regularly 2 or 3 times a week for several months.
Thai
Thai full-body massage
Thai full-body oil massage is capable of curing long-term blockages and enhances blood circulation, offering a surge of new energy.
In our wellness centre, this Thai oil massage is administered by a Filipina therapist who learnt the art of massages in Thailand from local masters. Her professionalism can also be documented by the fact that she was a personal masseuse of Dubai royalty for several years. Compared to Filipino or Ayurvedic massage, Thai massage focuses on stretching and is more intense. The strokes used rectify even long-term blockages, relieve stiffened muscles and tendons, and increase blood flow in the body. The intensity and kinds of strokes are always accommodated to the client's body and ailments. Thai massage is not a form of "joint cracking," to which it is frequently compared. The masseuse's moves, energy, and strokes are fully harmonised to cause absolute relief and a feeling of harmony. Such a professionally administered massage, i.e. using authentic, original massaging techniques, is uplifting, soothing, and brings new energy.
Philippines
Filipino full-body massage
Filipino full-body massage to relax stiffness and knots, to remove accumulated stress and toxins, and to enhance the immune system.
The Pinoy Hilot massage is another specialty of our Filipina therapist. This massage removes accumulated stress, relieves strained muscles, and removes pain from them. It is also suitable to enhance the immune system, to boost and energise your body. Filipino massage removes negative energy from the body, brings regeneration and a good mood. As is the case with other massages, we recommend undergoing this massage regularly, at least once a month, unless a more frequent interval is necessary to address specific difficulties.
Hot stones
Full-body massage using lava stones
Traditional lava stone massage that warms the body, with relaxing effects to remove inner tension.
This traditional hot lava stones Filipino massage is a treat for the body. The stones are placed on the body, but, in addition, our therapist uses them to massage the whole body, including the face and feet. The massage brings complete relaxation, both body and mind calm down due to the heat radiated by the lava stones, and the body is relieved and harmonised by soft massage techniques. The lava stone massage is recommended not only during the cold season, but anytime – as heat is important for us at any time, as we feel inner cold during stressful and troubled periods. The massage can relax both the body and mind, and the heat gives us a sense of security. The full-body massage using lava stones takes 90 minutes. You can also try the lava stones during a 60-minute, full-body Filipino massage, during which your back can be massaged by the lava stones.
Pair Massage
Exclusive full-body massage for couples
Exclusive full-body massage for couples
As a bonus, you can have a full-body massage as a couple in our spa, whether you want to enjoy the moments of relaxation and turn off your mind, or have a chat and share the impressions and sensations of the massage. In both cases, this massage is undoubtedly an unforgettable and deep experience. You can enjoy a cup of genuine Ceylon tea after the massage.
Facial Massage + Mask
Relaxing massage with a mask
Relaxing massage with skin treatment by rose water to enhance blood circulation in the skin and help fight wrinkles.
This relaxing facial massage with coconut oil is followed by a nourishing herbal facial mask (combining 7 kinds of herbs). After 20 minutes of treatment, the complexion is cleaned by rose water. Regular masks provide deep cleansing of the complexion, counteract ageing, provide hydration, elasticity, softness, and a fresh appearance.
Back Massage
Massage of muscles in the back
Massage of muscles in the back.
Relaxation back massage that can remove even long-term blockages. Ideal for relaxing pulled or stiff muscles.
Child's Massage
Ayurvedic child's massage
Ayurvedic child's massage.
Soothing massage for children from the age of 3 years. Regular massages contribute to proper development of the musculoskeletal system and peaceful sleep. The oil used is beneficial to children's sensitive skin.
Foot Massage
Massage of feet and soles.
Massage of feet and soles.
Massage of the feet, including acupressure points. Counteracts tension and stress, relieves pain in exhausted feet, while having overall positive effects on the circulatory system.
Massage in Pregnancy
Relaxing massage for expectant mothers
Relaxing therapy for expectant mothers, recommended from the 5th month of pregnancy.
Primarily removes back pain due to strain, relieves swelling in the feet, and the oil used also helps fight stretch marks. Specially adapted, tender massage techniques are beneficial for the optimal development and position of the foetus, while inducing perfect relaxation of the expectant mother. The recommended massage duration is at least 30 minutes. If there are no difficulties in pregnancy, it can last as long as 60 minutes.
Sports Massages
Ayurvedic Sports Nutrend Massages.
Massages focusing on specific areas stressed by a particular kind of sport.